Sale!
Description
Two Years Wall & Desktop Calendar 2021 & 2022 | 12 * 17 inch / 30.5cm * 43cm Desk Calendar| Flexible Monthly Calendar For Office & Home |Premium Thick Paper For Organising & Planning|Twin-Wire Binding
2 YEARS ROUND PLANNING & ORGANISING : Covers from December 2019 – December 2022. Monthly overview pages with holidays marked, Julian dates and a focus on easy and efficient planning and scheduling future plans.
MULTIPURPOSE: Every day of the year has ruled daily blocks to keep your handwriting neat and give you the maximum possible space. You also have a notes section to add additional ideas, meetings & appointments. All Julian dates as well as key bank holidays throughout the year are listed inside.  
USE ON DESK & TABLES – Our calendar has been designed to be used on any desk or table at home , in the office and other places such as universities, colleges, schools and construction. Do not be fooled by the wire at the top. It has been designed to flexible around your life style needs
PREMIUM THICK PAPER: Made with High quality 100gsm paper, it's been designed to avoid ink feathering and seepage. Our calendar is made from acid-free paper, resistant from the damage by air and light. It also has a hard back cover to protect your 2021/2022 calendar well.
TWIN WIRED BINDINGS & WALL HOOK– New Improved Sturdy twin wire binding helps you move between pages smoothly. Our Twin wire at the top has a built-in hanging loop for wall display.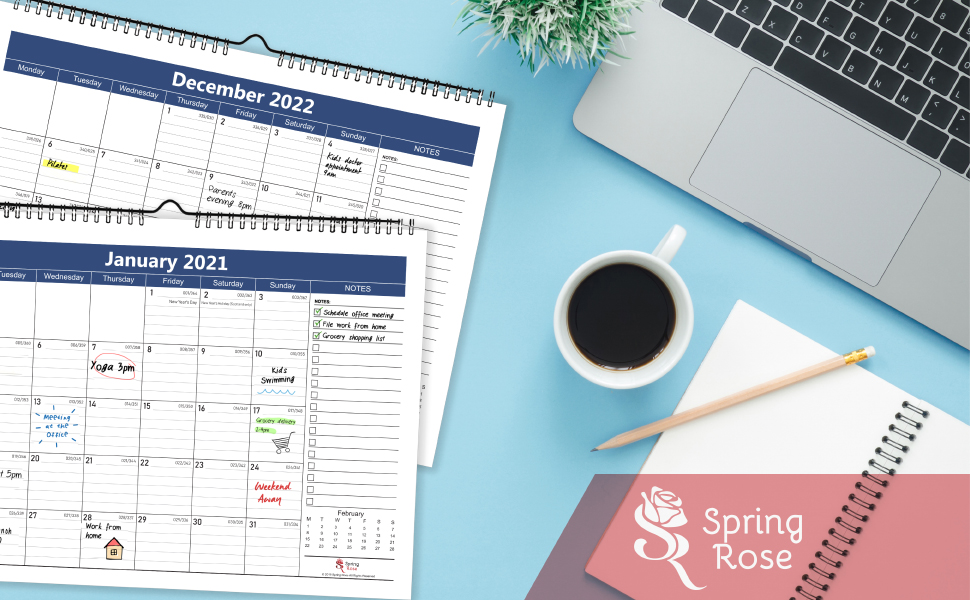 Here's How You Can Plan Ahead & Boost For Productivity For Two Whole Years!
Looking for a large desktop calendar for 2021?
Need a weekly organizer for 2022?
Want to keep all your to-do lists, notes, and tasks neatly organized on your desk?
Introducing The Ultimate 2-Year Monthly Calendar & Planner For 2021 & 2022 By Spring Rose!
Now you do not have to settle for cheaply-made calendars for 2021 or those low-quality monthly or yearly planners that need constant replacing.
We have created a two-year yearly wall planner for 2021 and 2022, so you can focus on your productivity without having to worry about replacing your out-of-date calendars anymore.
Planning and scheduling your upcoming meetings, doctor's appointments, children's recitals, family holidays, important deadlines or any other task has never been easier. Our multipurpose desk calendar is here to take all the hassle out of managing your schedule and organizing your important notes – give your productivity a huge boost today!
What Are You Waiting For?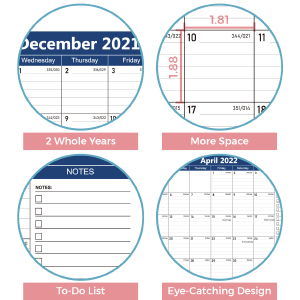 Top 3+1 Reasons To Choose Our 2-Year Calendar:
Peace Of Mind For 2 Whole Years: no need to worry about getting a new calendar for 2022. Our two-year planner will cover your needs.
Larger Design With More Space: write down your personal notes, meetings, deadlines or thoughts in the extra space – perfect for brainstorming ideas.
Ultra-Convenient To-Do List: handy checklist will double as a weekly or monthly to-do list for your office tasks or household chores, a meal planner or grocery list.
Eye-Catching Professional Design: no more boring or cheesy calendars for you. Invest in a sleek, professional organizer planner today that will make a statement on your deks.
Here's How You Can Plan Ahead In Style:
The Spring Rose premium 2 year planner calendar 2021-2022 is designed for:
Highly-productive people who like things organized.

Big families with kids and endless household chores.

Office workers who have to juggle meetings and deadlines.

Highly-motivated students or parents who want to boost their productivity and make more free time for their favourite activities!
Plan your whole year and write down your holiday dates, doctor's appointments, car service dates, vet's appointments, kid's milestones, important family activities, office events, shifts, deadlines or even romantic notes for your significant other! You name it!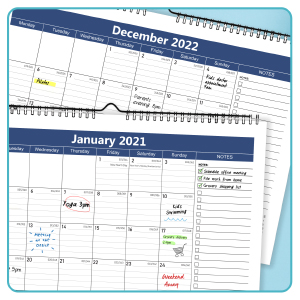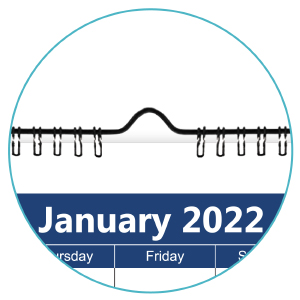 STRONG WIRE BINDING
Turn pages smoothly & off pages easily and hang on the wall steadily with sturdy twin-wire binding.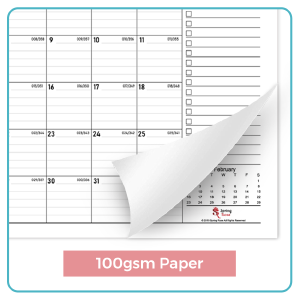 Thick 100GSM Paper Will Last For Years To Come
Even though your calendar will run through December 2022, the thick, high-quality 100gsm paper will look brand-new even in 2031.
Our 2021-2022 organizer is made from acid-free paper, which is resistant to air and light damage, thus maximizing its longevity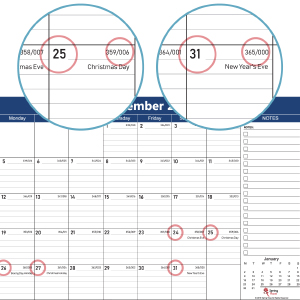 JULIAN DATES & MARKED HOLIDAYS
Designed with Julian Dates & marked with UK standard holidays to remind you every important holidays with monthly overview on every pages.
There is enough writing space to write down notes, appointments for the next 2 years