Sale!
Description
6 Coloured Plastic Clipboards | Strong 12.5 x 9 Inch (A4 Size) Multi Pack Clipboard | Holds 100 Sheets! | Acrylic Clipboards with Low Profile Clip & Heavy Duty Clip Boards | UK Brand
Lightweight Plastic Clipboard (6 Pack) – 6 Colours: Included 6 pieces A4 transparent plastic clipboard. Rainbow colours (Blue, Purple, Pink, Red, Orange, Green). Suitable for Office, students, children, teachers, schools, college universities and much more.

A4 Size: The clipboard size is 31.5 x 22.5cm / 8.9 by 1.7 by 13 inches. The metal clip is 10cm long which can accommodate A4 standard letter size paper and protect important files flying around.

High Quality: Durable A4 Clipboard which is made from High quality PP plastic and has a sturdy metal clip. It is also made with smooth edges to avoid cut and scratches

MULTI-USE: Suitable for indoor and outdoor. These clipboards can be used in offices, schools, hospitals, colleges, universities warehouses and much more

KIDS FRIENDLY: Our clipboards are kids friendly and come with smooth edges to ensure that they do not get cut! They are lightweight and hold up to 100 A4 sheets in a single clipboard. We cannot guarantee you won't get a few scratches on these but they are light and not bulky making them easy to carry. They will not bend so you can feel fully confident whilst using these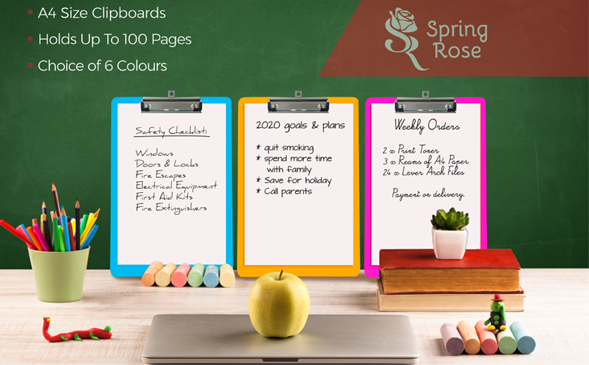 Brought to you by Spring Rose
Our clipboards are thrown around from pilar to post & lets face it we know that quality matters when using your clipboard. Our Spring Rose Clipboards have the following
Strong but Lightweight that Holds A4 Size

Low Profile clip that Holds up to 100 Pages without falling out!

Transparent acrylic

6 Colours to Choose from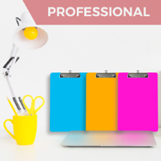 PROFESSIONAL
Our acrylic board are a great extra for your home & office, they are modern and professional. Easy to wipe down and clean so you can keep them looking new all the time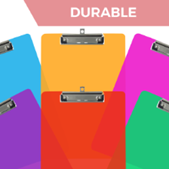 DURABLE
Made of lightweight yet durable acrylic, our transparent clipboard offers you a reliable long lasting strength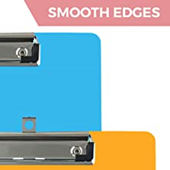 SMOOTH EDGES
With smooth rounded edges and a lightweight design we can assure you that you won the getting cuts from these clipboards. These boards are functional in schools, or at home but with the option to choose your favourite colour as all know black can get boring sometimes!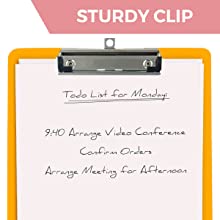 STURDY CLIP
Each of our clipboards comes with a sturdy clip mechanism. This is wide and secures down your papers and documents so they do not fly everywhere. They can hold up to 100 sheets at a time!